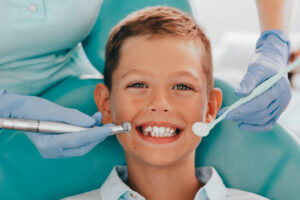 Clubhouse Pediatric Dentistry is the place to go for excellent dental health care for your child. Our team is experienced in working with kids and uses gentle techniques that will make your child feel at ease. We want to help you keep your child's smile healthy and beautiful for a lifetime!
What to Expect at Your Child's First Dentist Appointment
The first dental appointment is an important milestone for your child. Here at Clubhouse Pediatric Dentistry in Rexburg children's dentist, we make a fun and positive experience! We will take the time to get to know you and your child, answer any questions you may have, and discuss your child's dental health. We will also provide a thorough cleaning and examination.
How to Make Brushing Teeth a Fun Experience for Kids
Brushing teeth doesn't have to be a chore! Here are some tips to make it fun for your kids:
Let them pick out their toothbrush and toothpaste. There are so many fun designs and flavors to choose from at most stores!

Make it a game! See who can brush their teeth the longest or make funny faces in the mirror while brushing.

Sing a song! Brushing to music can help kids brush for the full two minutes.
Cavities in Children and How to Prevent Them 
Cavities are the most common dental problem in children. They occur when bacteria in the mouth combine with sugars to form acids that attack and break down tooth enamel. The best way to prevent cavities is by brushing twice daily, flossing daily, and eating a balanced diet. Fluoride is another important part of cavity prevention.
It's also essential to keep your regular Rexburg children's dentist appointments. We can provide a thorough dental cleaning, keep your child's teeth in excellent shape, and spot issues that may occur down the road. 
The Importance of Fluoride and Why it's Included in Pediatric Dentistry Treatments 
Fluoride is a mineral that helps to strengthen tooth enamel and make it more resistant to decay. Fluoride can be found in many products, including toothpaste, mouthwash, and fluoridated water. Fluoride treatments are often used in pediatric dentistry to help prevent cavities. They are safe and effective and help ensure that your child's teeth are strong and healthy.
Dental Services Clubhouse Pediatric Dentistry Offers 
We offer a wide range of dental services for children, including:
Preventive care: cleanings, exams, fluoride treatments

Restorative care: fillings, crowns

Sedation dentistry: laughing gas oral sedation
How to Choose the Right Pediatric Dentist for Your Family 
When choosing a pediatric dentist, it's crucial to find someone who you and your child feel comfortable with, who offers the services your child needs, and who is close to you.
At Clubhouse Pediatric Dentistry, we strive to create a warm and welcoming environment where kids can feel at ease. Our Rexburg children's dentist services are down the road if you live in the Rexburg area. We are dedicated to providing the best possible care for your child and will work with you to ensure we meet their dental health needs.
We'd encourage you to read the online reviews written by our many satisfied customers. We'd also encourage you to schedule a consultation to meet Dr. Jackson and his team. The consultation is an excellent way to know if our Rexburg children's dentist office is right for you and your child.
Don't Wait to Schedule Your Children's Dental Appointment in Rexburg, ID
We know getting kids to see the dentist can be challenging, but we're here to make it fun and exciting. We'll help them feel comfortable during their appointment and send them home with a toothbrush and toothpaste so they can take care of their teeth immediately. You'll love our kid-friendly office environment – we promise you won't be disappointed!
Schedule a children's dentist consultation today with Dr. Jackson!