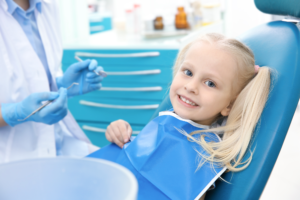 Do you bring your child in for regular dental exams? It's a good idea. Clubhouse Pediatric Dentistry offers dental exams as part of our comprehensive and preventative dentistry program. These exams help us maintain your child's oral health and catch any problems early.
What is a Dental Exam, and What Does it Entail?
A dental exam is a routine checkup performed by Dr. Jackson and the Clubhouse Pediatric Dentistry team. Dental exams help us assess the health of your child's teeth and gums. 
The examination will usually involve a thorough review of your child's mouth, including the teeth, gums, tongue, throat, neck, and head. We're checking for tooth decay, infections, and other problems. In addition, we may take digital X-rays.
And regular dental exams give parents and children a chance to ask questions and learn more about how to care for their teeth properly. So whether your child has perfect oral hygiene or could use some improvement, be sure to schedule a dental exam.
A Dental Exam Usually Includes a Cleaning
A dental cleaning is an integral part of a regular dental checkup. Professional cleaning removes the build-up of plaque and tartar that can lead to tooth decay and gum disease. We also polish your child's teeth so that they look sparkling clean. After your child's teeth are clean, we may also apply a fluoride treatment to help them fight off those pesky cavities.
When Should Your Child Get a Dental Exam?
If you're wondering when to schedule your child's first dental exam, the answer is sooner than you might think. While most parents are aware of the importance of dental care, they may not realize that their child should see a dentist as early as age one. The American Academy of Pediatric Dentistry recommends that children have their first dental exam within six months of getting their first tooth or by their first birthday. We provide dental exams for all children from infancy and up. 
We recommended that children have a dental exam about twice per year. These dental exams allow Dr. Jackson to monitor your child's changing dental structure. 
Easing Dental Anxiety in Children
Dental anxiety is a common problem, especially among children. Going to the dentist can be a scary experience, and it's essential to do everything we can to ease that anxiety.
You can do a few things to help your child feel more comfortable at the dentist. First of all, regular dental exams help build relationships between your child and our team, which can make future visits more comfortable. Be sure to keep current with your child's regularly-scheduled checkups. 
Also, be sure to choose a pediatric dentist who is experienced in working with children. Dr. Jackson knows how to put your child at ease and make the experience as pleasant as possible.
And don't be afraid to talk to your child about their fears. Help them understand what the dentist will be doing and why it's important.
Finally, make sure your child is well-prepared for the exam. Bring along their favorite toy or blanket and allow them to ask any questions they may have.
With a bit of planning and preparation, you can help your child overcome their dental anxiety and have a positive experience during the dental exam.
Regular Exams For Your Child's Excellent Dental Health
Dr. Jackson is experienced in providing gentle, thorough care for your child, including dental exams. Exams are an important part of your child's overall health, and we can perform them at any of our offices:
Idaho Falls, Idaho

Rexburg, Idaho

Jackson, Wyoming
Schedule an appointment today for a routine dental exam at Clubhouse Pediatric Dentistry. We want to help you keep your child happy and healthy and keep their teeth beautiful and shining bright and white.